Welcome to the Oblivion Project online!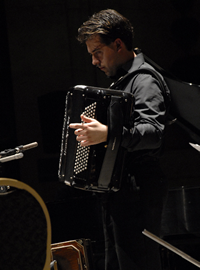 Julien Labro
Tango: the sultry, darkly beautiful dance music of Argentina is brought to life in the Northern Hemisphere by the Midwest's foremost tango band, the Oblivion Project. Composed of some of the finest musicians in the area, the group explores the music of the legendary composer Astor Piazzolla. Created to interpret the music of Argentine composer Astor Piazzolla, The Oblivion Project's annual tango concerts at the beloved Kerrytown Concert House in Ann Arbor, Michigan are one of the venue's most popular springtime events. Like no other music, the passion-filled and dramatic tangos of Astor Piazzolla evoke the mystery and romance of Buenos Aires after dark.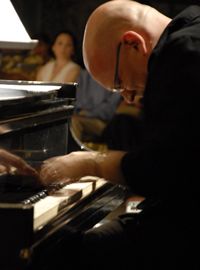 Tad Weed
Featuring the internationally renowned, award-winning bandoneon* duo of Peter Soave and Julien Labro, the group also boasts some of the area's most talented jazz and classical performers, including jazz pianist Tad Weed, avant-garde percussionist Alex Trajano and Gabe Bolkosky, Derek Snyder and John Holkeboer on violin, cello and double bass.
*An ancestor of the modern accordion. Also called a tango accordion.